Save up to 85% With Just One Click!
Search and compare the lowest prices on the web!
Everything from snowmobiles & camping gear to designer handbags, laptops & leather furniture!
Click here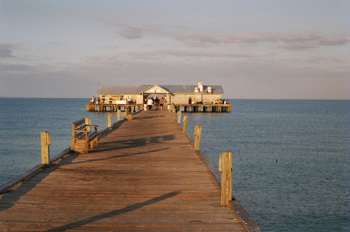 Welcome to Anna Maria Island Guide! Your premier online guide to Anna Maria Island, Florida showcasing hundreds of exciting attractions throughout the southern Gulf coast area of Florida including the neighboring communities of Sarasota, St Petersburg, Clearwater and Tampa Bay.


Anna Maria Island
Anna Maria Island is a seven mile barrier island located in the southern Gulf Coast area of Florida and is renowned for its white sand gulf beaches and gin clear water. Anna Maria is the northernmost of a string of barrier islands that extend in a southerly direction to the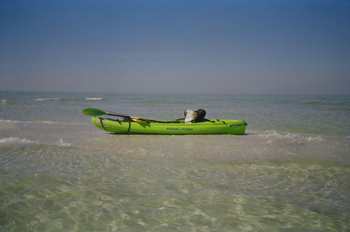 Florida Keys.The Island itself is surrounded by the Gulf of Mexico to the west, Tampa Bay to the north and Sarasota Bay and Anna Maria Bay on its eastern shores.
Abundant Wildlife
Fishing abounds on Anna Maria Island. The island offers three fishing piers: Anna Maria City Pier, Rod & Reel Pier and Bradenton Beach.
It is common for Bottlenose dolphins to be seen both in the Intracoastal Waterway and the Gulf. The endangered Manatee is often seen in and around Anna Maria Island in the shallow coastal areas such as canals, rivers, springs and also in the bay. These huge creatures are gentle and very slow moving. Manatees are fully protected by Florida law and must be left alone and watched only from a distance.
Anna Maria Island is a birdwatcher's paradise. There are thousands of pelicians as well as ibis, egret, heron, gull, sandpiper, skimmer and spoonbills.


Beautiful Condo For Rent on Anna Maria Island
Best Location, Best Price, Beautiful Condo!
click here for more information.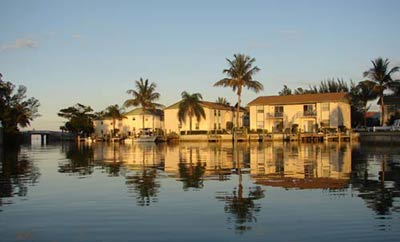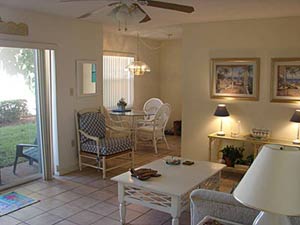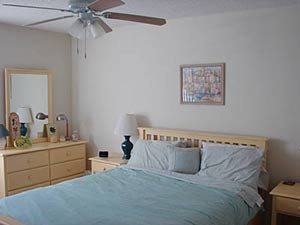 Located at the north end of lovely Anna Maria Island on historic Pine Avenue, this condo is located in a tropical paradise with panoramic canal views & incredible sunsets from your living room window!
Rates starting at only $575 per week!
click here

White Beaches & Glorious Sunsets
Anna Maria Island is a famous for its miles of white sandy beaches with stunning sunsets over the Gulf of Mexico. Here visitors can find world class angling, boating, surfing, golf, tennis as well as a rich selection of exotic wildlife. In fact, the entire island of Anna Maria is considered a wildlife sanctuary!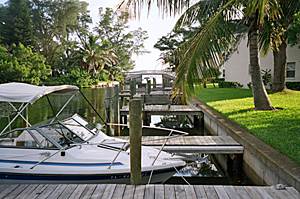 We invite you to take a virtual tour of some of our most popular travel destinations in the Anna Maria Island area including the historic towns of Anna Maria, Holmes Beach and Bradenton Beach as well as the neighboring towns of Palmetto, Cortez and the cities of Sarasota and Tampa Bay .









Have you ever thought about publishing your very own book about your adventures on Anna Maria Island?

You Have The Talent, We Have The Resources!
Book Publishers.com



Are you an author looking to publish your masterpiece? BookPublishers.com could connect talented writers like you with willing book publishers. For many talented authors, the most difficult obstacle isn't writer's block—it's finding a receptive publisher to publish their books. Because publishers have to sift through so many works, they may dismiss some unfairly, or be so short-staffed that they don't have the time to give each manuscript its fair consideration.
Book Publishers.com
click here
For those who decide that finding a publisher isn't the right choice for them, self-publishing can be a great alternative. With self-publishing a writer can maintain editorial control, as well as keep all proceeds from the book sales. Whatever your preference, BookPublishers.com wants to help you on your journey to become a published author! You have the talent, we have the resources.
click here for more information


Anna Maria Island Vacation Rentals

Outstanding vacation rental homes, villas and condos from 1 to 5 bedrooms in Anna Maria Island, Fl. Let us book your island getaway.We have vacation homes for rent that fit any budget.

click here

Anna Maria Attractions
Anna Maria Island is ideally located in southwest Florida and offers visitors a delightful year round vacation destination. Anna Maria Island is also close to well-known tourist attractions including the Tampa Aquarium, Longboat Key Arts Center and The Circus Galleries at the Ringling Museum.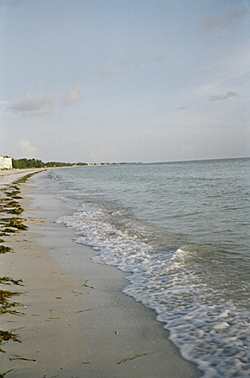 Other attractions in the area :
SOUTH FLORIDA MUSEUM, BISHOP PLANETARIUM
201 10th St W Bradenton, FL 34205 941)746-4131 the largest natural and cultural history museum on Florida's Gulf Coast!Laser Light show live manatee

MARIE SELBY BOTANICAL GARDENS
811 South Palm Avenue Sarasota, FL 34236 941-366-5731 Marie Selby Botanical Garden 11 bay-front acres are an open-air and under-glass museum of more than 20, 000 colorful plants


MOTE MARINE LABORATORY & AQUARIUM
1600 Ken Thompson Parkway Sarasota, FL 34236 941-388-4441 Stingray petting tank, Shark tank,interactive shark movie, mantees 18" Giant Squid lots of fun

ANNA MARIA ISLAND COMMUNITY CENTER
407 Magnolia Avenue Anna Maria, FL 34216 941-778-1908


BUSCH GARDENS
3000 E Busch Blvd PO Box 290377 Tampa, FL 33612 813-987-5082 Part zoo, part amusement park, Busch Gardens brings together the best of both worlds with Rhino Rally, an off-road safari adventure through five animal habitats that ends in a raging river thrill ride.Visitors can observe lions, giraffes, hippos, gorillas and other creatures from the safety of the Serengeti Railway or the Skyride Busch Gardens Tampa Florida offers attractions based on African Continent, including safaris and thousands of animals


Our network of Florida websites give you everything you need to know to plan your trip online when visiting exciting Anna Maria Island .. It's all right here at your fingertips...with just a click of your mouse!


ONLINE SCHOOLS
EARN YOUR DEGREE FROM HOME!


Florida Culinary Arts
Florida offers a wide variety of world-class culinary institutes and schools taught by renowned world masters using the finest in equipment and ingredients.
Florida and the Florida coastal areas have long been known for their truly unique and varied cuisine ranging from fresh caught seafood grilled over an open fire to world class dining at fine restaurants.
Diners can choose from hundreds of exciting restaurants with menus featuring everything from spicy ethnic foods to hearty southern cooking with an attitude! Because of the abundant fish and game found throughout Florida, visitors have the opportunity to sample such native culinary delights as sea bass, mahi mahi, red fish, grouper, as well as fresh native oysters, clams, shrimp and crabs.
In the internationally acclaimed City of Miami, diners can choose from hundreds exciting restaurants with menus featuring everything from spicy ethnic foods to hearty homecooked meals. If romantic candle light dining setting appeals to you, the beautiful Sarasota region offers an unparralled experience. It's no secret that Florida is one of the citrus capitals of the world. Because of the long growing season and plentiful fish and game found throughout Florida, visitors have the opportunity to sample such native culinary delights as key lime pie, stone crabs, and fresh mahi mahi.

FLORIDA CAREER DIRECTORY

Are you tired of your job? Ever thought about going back to school in your spare time to further your career?
Online programs give working adults and full-time students tremendous scheduling flexibility and the opportunity to earn a degree in less time than is usually possible through on-campus attendance.
If you want to start or accelerate your career, explore the online programs & request free information in the following areas:
click on the links below
We invite you to visit Florida Arts.org
Florida Arts.org is your premier online Guide to the Arts in the State of Florida. Showcasing Cultural & Non Profit organizations dedicated to the arts, music, dance, theater & education throughout the State of Florida.

This website provides comprehensive list of Florida Museums, Theaters, Dance & Music Organizations as well as Florida's many cultural venues and resources.
click here for more information Florida Arts .org
We invite you to visit the Everglades
Everglades National Park Florida.com -The premier online guide to the Everglades National Park Showcasing hundreds of exciting attractions throughout the south west Gulf Coast area of Florida including the neighboring communities of Naples, Chokoloskee, and Marco Island. The Everglades National Park has been designated a World Heritage Site, an International Biosphere Reserve, and a Wetland of International Importance.


Established in 1947, the Everglades National Park covers 4,000 sq mi in southern Florida extending from Lake Okeechobee southward to Florida Bay. Federal Land comprises 1,398,617.13 acres, Non-Federal Land - 461.13 with the gross total area acres of 1,399,078.26. The Everglades is a unique ecosystem and is completely dependant upon water flow, making it one of the largest and most productive estuaries in the world. The Everglades support more than 350 species of birds and over 1,000 species of plants.
click here for more information Everglades National Park Florida.com/
Virtual Slideshows!
Take a virtual tour of famous Florida landmarks and popular destinations throughout the Sunshine State!
We invite you to enjoy our exclusive virtual slideshows and stunning color photography of Florida's beautiful scenery. If you're visiting us from the colder northern climates, sit back and enjoy the sun & surf !

Up to 75% off !
Looking for a grand vacation at an unbelievably low price? Discount Cruises departing from several Florida locations. Include a cruise on your Florida vacation and relax!
Fun for the whole family!
click here

FLORIDA VACATION RENTALS
Great deals on vacation homes and condos!
Search by date, price, location. Pictures & full descriptions!
Click here
Let the Florida Travel Guide network be your resource guide to the State of Florida showcasing beautiful Anna Maria Island, Anna Maria, Anna Maria Island Florida, Anna Maria Island rentals, Florida vacation rentals on Anna Maria Island, Anna Maria Island Fl, Anna Maria Island real estate, Anna Maria Island vacation rentals, Anna Maria Island hotels, Anna Maria Island accommodations, Anna Maria Island beach rentals and Anna Maria real estate.

"Tired of looking at that old car or boat sitting in your back yard! Now you can donate it to your favorite charity and receive a valuable tax deduction! All with one simple click!"


Donate Your Used Vehicle to Charity!
Donate your used car, boat, motorcycle, van or RV to your favorite charity & receive full fair market value as a tax deduction!
Click here to learn more and search for your favorite charity!
Free nationwide pickup and no complicated paperwork.
It's fast and easy. All vehicles accepted.
Search and choose from hundreds of religious institutions, schools, and charitable organizations including cancer research, multiple sclerosis and heart disease.